Packaged LED news: Cree, Samsung, Luminus, Everlight, Citizen, Seoul, and more
Announcements at and around LightFair included new COB LEDs from Cree, new horticultural LEDs from
several manufacturers, and notification that the Energy Star ban of the Citizen test lab for LM-80 data had been rescinded.

The LightFair International (LFI) event brought a number of packaged-LED product and news announcements
either made directly at the tradeshow or in the days surrounding the event. Let's review the most recent packaged
LED news from Cree, Samsung, Luminus, Everlight, Citizen, Seoul, and more including new products, new
customers, and a test lab reinstatement.
Cree CMT LEDs
Cree announced the new XLamp CMT portfolio of chip-on-board (COB) LEDs at LFI. The company refers to the
metal-core-based products as High Current CMT LEDs joining the similarly branded CMA family announced in October 2017.
Prior to the CMA launch, Cree has only manufactured COB LEDs on a ceramic substrate. But some solid-state
lighting (SSL) manufacturers prefer the aluminum substrate because it is not brittle and such LEDs can be affixed
in a product with screws. The CMT LEDs essentially match the CMA products in terms of specifications but feature
different form factors. The new products match up with popular form factors of COB products from Citizen, a leader in the COB LED market.
"Cree is a long-standing leader in developing reliability and lifetime standards for LEDs, such as IES LM-80 and TM-21,
and we remain fully committed to upholding these methods," said Dave Emerson, executive vice president and general
manager at Cree. "In light of recent reports of some companies falsifying lifetime data, our customers can remain
confident that Cree LEDs, including our latest High-Current COB family, undergo rigorous testing to allow them to
consistently deliver reliable long-term performance."
Citizen regains Energy Star recognition
Ironically, the quote above most likely refers to the fact that Citizen had been found to falsify some LM-80 test data
as we reported back in April. The incident led Energy Star to temporarily stop recognizing LM-80 tests performed
by Citizen, meaning that luminaires that used affected Citizen LEDs were not eligible for Energy Star or
DesignLights Consortium (DLC) market transformation incentives.
Just before LFI kicked off, however, the Energy Star program rescinded the ban. And the DLC program
announced that products using the Citizen LEDs would again be eligible for the program's qualified products list (QPL).
Horticultural LEDs from Samsung, Everlight, and Luminus
The LFI timeframe was ripe (pun intended) with new horticultural-targeted LEDs. More and more
manufacturers see the horticultural niche as a promising one and are developing LEDs to match plant needs.
Samsung, for example, announced it first portfolio of horticultural-specific LEDs. "Our horticulture
LED solutions are based on LED technologies that deliver proven levels of performance and reliability
across an extensive range of lighting applications," said Yoonjoon Choi, vice president of the
LED Business Team at Samsung Electronics. "By broadening our lineup to include horticulture LEDs,
we are providing global luminaire manufacturers with a one-stop resource for these solutions as well
as for our many other LED technologies."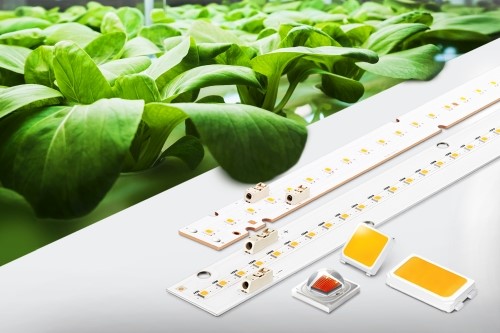 The latest packaged LED offerings from Samsung Electronics target horticultural lighting.
The LH351B Red is the flagship product of the offering, emitting at 660 nm. The company said it
delivers 2.5 micromoles/sec of photosynthetic photon flux (PPF) at 350 mA of drive current.
Learn more about metrics such as PPF in one of our feature articles on the topic.
The announcement further included LEDs in the LM301B and LM561C families and Samsung
launched two linear light engines, or what are often called level 2 modules for horticulture.
Everlight Electronics also showed a broader portfolio of horticultural LEDs at LFI including
both LEDs and level 2 modules. The offering includes LEDs in the 3535, 3030, and 2835 form
factors with wall-plug efficiency as high as 65%. The company also demonstrated a 560×20×1-mm
level 2 module that complies with Zhaga Consortium standards.
Luminus Devices, meanwhile, demonstrated the new SST-20 white LEDs designed for horticulture
that complement previously-announced monochromatic color LEDs. The company demonstrated a
range from the ultraviolet UV-A band at 365 nm to far red at 730 nm.
"The need for improved crop yields and more sustainable food supplies is more important than ever,
and our horticulture LED advances enable innovative luminaires that directly address the market's
needs," said Yves Bertic, senior director of global product marketing at Luminus.
Seoul Semiconductor light quality
Moving to Seoul Semiconductor, the company again demonstrated its SunLike series of LEDs that
mimic the spectral power distribution (SPD) of the sun. The company even used the LEDs in a
compelling photographic demonstration in their exhibit.
But the biggest news regarding SunLike was traction in the market. At LFI, Seoul said LED Luks,
FLOS Architectural, LTS Licht & Leuchten GmbH, Yeelight, Essenzialed LED Lighting, Ferrolight Design,
and Alphabet Lighting (Ledra Brands) all had new products based on the SunLike LEDs.


From:https://www.ledsmagazine.com/articles/2018/05/packaged-led-news-cree-samsung-luminus-everlight-citizen-seoul-and-more.html